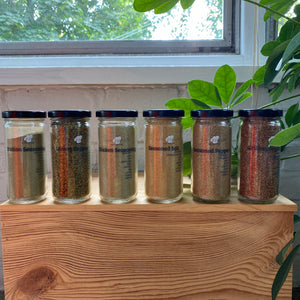 great set!
the seasonings smell and taste fresh and really flavorful, some of my new go toys. my favorite is the grilling dry rub, so good!! the everything bagel seasoning also tastes great on avocado- yum! if I had to note a slight issue (which isn't a problem for me at all, I just couldn't think of another word) it's that the jar doesn't come with a sifter cap so be careful opening it. however, my order came with mini spoons for each jar and a teaspoon also works so you'll be fine. the jar size is also very generous so you most certainly get what you pay for.. will buy again. tysm!
Best seasonings ever!
All these seasonings are amazing! My household favorite is the grilling seasoning! You can use it for grilling or every day cooking on your meats! You won't regret getting the multi pack!
Wonderful!!!
These spices are all you need in your spice cabinet. I use them on everything, try the chicken seasoning on seafood! I have to hide the grill seasoning from my visitors, so I have it when I need it!!
They make great gifts too.